Fir bio health card.
Published: March 10 for
Nilesh Kelji
" What is health card ?

This card consist of a unique bio ceramic powder. It has been created such to enable to heal all health aspects pertaining appropriate human body blood circulations.
What are the benefits of Health Card ?
a) Proper human body Blood Circulation
b) Enlighten stress & fatique
c) Increase energy
d) Release bacteria effectively
e) Activate drinking water molecules
f) Activate bodys water molecules
g) To vanish bad odors
h) Maintain food freshness stored in the refrigerator
i) Enlighten migraine, back pain and body arthritis
j) Maintain excellent growth for plants and greens.
How to display Bio-Energy Card on our body ?
Sticking is not necessary. Just store in your pocket or as for ladies just Slip in your bra.
Why Bio Energy card and not flexible ?
The cards are patterned for the convenience of the consumers with high effect. Its scientifically proven as instant remedy to the consumer. Quality wise its Competitively good as the energy pendant, bracelet and the magnetic chain found in the market. We are proud to present the Bio-Energy Card for free to our agents, mainly we believe Health are the supreme value then your wealth.
Does Bio Energy Card diminish odor ?
Minor odors like unpleasant food odor in the fridge, in the car or Even body odors , Bio Energy Card confidently diminish odor when used.
Is Bio Energy Card safe for children ?
Nonetheless, this card is safe for kids even babies.



Health Card helps in keeping the body and mind fresh and alert amidst today's pressure and strain. With superior technology being used in its manufacture, the Health Card comes across as an ideal supportive therapy companion. The Health Card is impregnated with bio ceramics providing the goodness of the sun which is so very beneficial to the human body. The Health Card is thus a perfect blend of modern day bio ceramic and traditional Bio technologies.



Health card





Q&A
1. How do you attach the card to the body?
I have tried it but it is uncomfortable. Can a softer material be used? We done? attach the card to the body. We just put in the pocket or bra for woman. It is convenient for us to make this type of health card. Because we can easily and cheaply get the base materials from credit card factory. So we can make health card with low price. As you said, we can make it using softer material. But it will be more expensive.

2. In your technical data, it stated that it is also for deodorization effect. Does this mean it can eliminate body odour or be placed in any places that have a foul smell.
Yes, it means it can eliminate minor odour such as food smell in the refrigerator and foul smell in the car and body odour.

3. Is it safe for children and what is its lifespan?
It is absolutely safe for children and its lifespan is 3years
"
Write review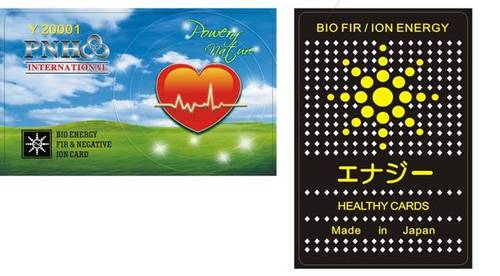 Fir bio health card.
Write review
Leave your comments on this ad
Offensive messages and spam will be removed